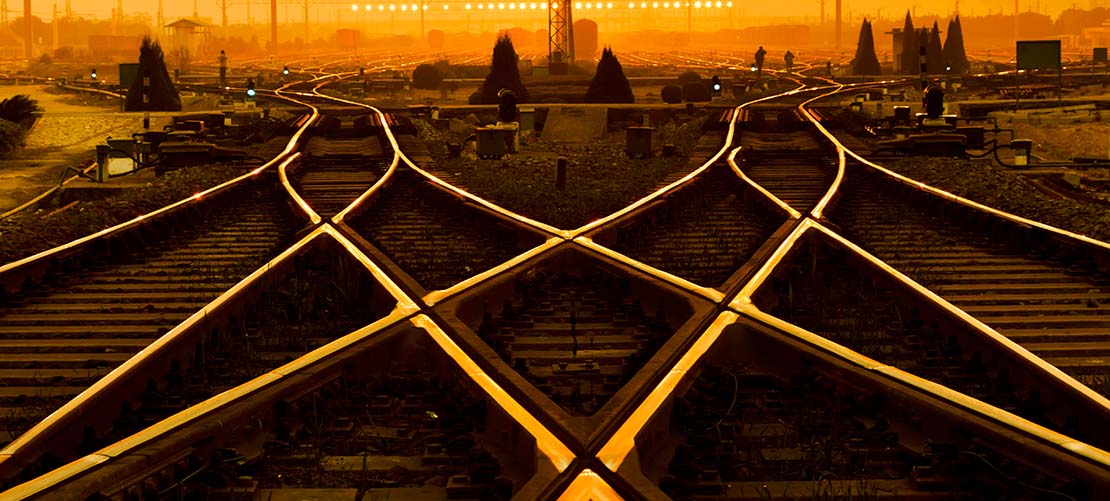 "As long as I gaze on, Waterloo sunset, I am in paradise…" The Kinks, 1967
Few will suggest the post-Brexit world is quite the paradise envisaged by the song. But there are opportunities following the United Kingdom's departure from the European Union and indeed the government created a Ministerial role to consider Brexit opportunities and government efficiency. A possible opportunity is the ongoing role of European law in the UK and a project is underway within government to review this. The project has significant implications for railway businesses as a lot of the law underpinning our railway operating model originated from Europe.
The Williams-Shapps Plan for Rail envisages bringing track and train closer together. Whilst there are ways of structuring the future railway so that it remains compliant with the existing legal framework, revisiting retained EU law may well be a way to make the job of creating Great British Railways (GBR) easier. With the legislation to create GBR being paused in 2022, could a review of retained EU law help the industry take steps towards achieving the future model?
When Brexit happened, to ensure no gaps in the law were created, existing European Union law applicable in the UK was automatically incorporated into our domestic law. This is known as "retained EU law". Under new government proposals progressing through Parliament, all of that retained EU law will expire and will be removed from our domestic law – also known as "sunsetting" – from the end of this year. This now risks creating the gaps the government had previously sought to avoid.
In many respects, the railway in Great Britain was an early pioneer of the operating model and legal framework later adopted throughout Europe. The principle of separation of track and train was adopted in the mid-1990s in GB. In Europe, a series of "railway packages" over the course of the past 30-odd years has increasingly sought to define what separation means in the real world. The intention being to have independent infrastructure managers incentivised to maximise use of their rail infrastructure without discrimination and promoting on-railway competition for passenger and freight users.
The proposals
The Retained EU Law (Revocation and Reform) Bill (the Bill) is currently at the committee stage in the House of Lords. If passed as currently drafted, the Bill will abolish the principle that EU law has supremacy over domestic law and will give powers to ministers to revoke, restate or update existing retained EU law. One of the more controversial proposals in the Bill that readers may have heard about is the "sunsetting" provision – perhaps not quite as visual as a Waterloo sunset. If passed, most retained EU law will automatically expire and no longer form part of our law from 31 December 2023 – less than a year. This is unless active steps are taken either to:
preserve that retained EU law; or
postpone the sunset until 23 June 2026.
Either of those options requires a specific statutory instrument to be passed by the relevant part of government – for the railway, the Department for Transport (DfT). The real difficulty with this approach is that if the DfT does nothing, retained EU law will automatically disappear. This potentially leaves big gaps underpinning how the railway is operated. Preserving the status quo in the absence of action would seem to be the better option, but is not the current plan.
Whilst there might be some cases where existing legislation – such as the Railways Act 1993 (the 1993 Act) – can plug the gap, in other areas there could simply be nothing. The government considers it "unlikely" that this will happen. That said, it remains a possibility. It also places significant powers in the hands of ministers, rather than giving them to Parliament.
What needs to be done
What really needs to be done is for the DfT to go through all retained EU law, clause by clause, and consider one of the following options:
It should continue to be retained as is: this will be important where it underpins a key part of the industry which isn't otherwise replicated in domestic law – safety authorisations and certificates is an example of this.
It should be retained with amendments: for example, this could include the power to directly award rail operations contracts, such as National Rail Contracts, in a broader range of situations. In Europe, the option to directly award rail operations contracts will considerably narrow later this year when the deadline to change European law passes on Christmas day.
It should be allowed to lapse, which could include transitional arrangements: for example, the European/railway undertaking licensing regime which overlaps a Railways Act equivalent, although steps would need to be taken to ensure those entities holding "European" licences can convert those into domestic ones.
We strongly recommend that everyone in the industry undertakes their own review of the potential impacts of retained EU law lapsing at the end of 2023, so that they are ready to input to any requests for input from the DfT or otherwise lobby. Our view is that the starting point should be that EU retained law is retained beyond the end of 2023 unless a case is made to remove it. This will avoid that separate law of unintended consequences for rail businesses.
What unintended consequences might there be?
The potential consequences will vary between rail businesses: losing a wealth of law underpinning the industry is potentially very significant. Whilst by no means a comprehensive list, possible areas to consider include:
Licensing: A consistent, pan-European, train operator licensing regime exists, the intention being that if an operator is suitable in one country, it should be in another. Of course, there is recognition of particular national requirements: the Statement of National Regulatory Provisions (SNRPs). The "European licence", renamed "railway undertaking licence" following Brexit, currently achieves this. Of course, a system will still be needed to ensure that only "fit and proper" persons can provide railway services. Whilst the 1993 Act has a fallback train operator licensing regime, in addition to its depots and stations licensing provisions, allowing the Railway (Licensing of Railway Undertakings) Regulations 2005 to lapse could create serious difficulties. If existing "railway undertaking" licences are not deemed to be equivalent to 1993 Act licences, operators will be committing a criminal offence if they operate a railway asset without being authorised by licence or exempt from the requirement to be licensed.
Open access: The requirements to separate infrastructure manager (such as Network Rail) from train operator have promoted on-rail competition. This was intended to avoid the situation where the infrastructure manager favours its own group companies operating train services. Undesirable behaviours could include allocating "better" capacity – or even any capacity at all where it is constrained – to its group companies or offering preferential charges or access arrangements. This is highly relevant under the Williams-Shapps Plan because GBR is expected to procure rail services through Passenger Services Contracts. If retained EU law is allowed to lapse, the Railways (Access, Management and Licensing of Railway Undertakings) Regulations 2016 (the 2016 Regulations) could potentially fall away. The 2016 Regulations include many protections intended to facilitate open access on fair and non-discriminatory terms:
 

separation of decision making on the "essential functions" of capacity allocation and charging;
charging for track access on a "directly incurred costs" basis with specific tests that must be satisfied before higher charges can be levied;
publication of network statements so that information is available to everyone about what is required to commence operations and the associated access arrangements;
requirements to have a performance regime in place;
appeals to the Office of Rail and Road if unfair treatment or discrimination occurs.

A number of key protections would be lost if the 2016 Regulations lapsed, meaning there would be fewer protections for non-GBR operators against the GBR infrastructure manager unless alternative protections were put in place.

Exempt infrastructure: Certain railway infrastructure – such as High Speed 1, the Heathrow spur and certain depots – benefit from exemptions from parts of the 1993 Act. This creates hurdles for operators who might want to use the infrastructure – for example, they cannot rely on the contested "section 17" access application process in the Act to secure the use of track/stations/depots. The 2016 Regulations temper the impact of the exemption and allow appeals to the ORR in a wider range of circumstances, facilitating access to essential railway infrastructure.
Access to service facilities: Sometimes, the infrastructure manager such as Network Rail will not operate service facilities adjacent to the network, such as stations, depots or sidings. These are clearly key to running a service and there is a requirement under the 2016 Regulations for the operator of the station/depot/sidings to provide information on how their facilities can be access by third parties and the charges for doing so. Allowing this provision of retained EU law to lapse would make it more difficult to start up new railway services.
Competition for franchises: Regulation 1370 sets out the framework for the public sector contracting out railway passenger services, when direct awards can be made – which we know is a power the DfT regularly uses – and how much can be paid to operators for providing the services. In Europe, the power to make direct awards of up to 10 years in non-emergency situations was to be removed from later this year in an effort to force authorities to competitively procure rail services. If this regulation lapses, the framework for procuring railway services will be lost and it is not clear what will replace it – would it be the arrangements in the Procurement Bill, also currently going through Parliament?
Rail passengers' rights and obligations: Retained EU law gives passengers various basic rights, including where there is disruption on the railway. Examples include accessibility, ticketing availability, train operators holding insurance and entitlement to re-routing or a refund where there is a delay. Many of these are already implemented by way of requirements included in an operator's licence – and there are some overlaps with delay repay schemes as well. There is a risk though that important passenger protections could be lost. A thorough review of passengers' rights and ensuring they are captured in other ways will be important from the passenger's perspective to ensure they remain at the heart of the railway.
Train driving licences and certificates: The framework for the licensing and certification (by operators) of train drivers is European in origin. Various requirements are included, firstly to be competent to hold a licence issued by the ORR – such as minimum education, age and passing medical, occupational psychologist and general professional competence exams. Once a licence has been issued, operators then are responsible for certifying drivers on particular stock and routes, including language competency and theoretical and practical assessments. Losing this retained EU law would clearly leave a huge gap in the framework for ensuring train drivers are and remain competent.
Interoperability: The requirement to obtain the ORR's authorisation before putting into use parts of the railway system is set out in EU-derived law. This law also introduces the concept of National Technical Specification Notices (standards, technical specifications and rules in the UK) against which new or upgraded rail infrastructure must comply with or receive a derogation for. This is also where the requirement for the National Vehicle Register and infrastructure register arises from.
Safety: Whilst the Railways and Other Guided Transport Systems (Safety) Regulations or "ROGS" as they're commonly known were made under the Health and Safety at Work etc. Act 1974, they implement the European Railway Safety Directive. ROGS clearly underpins the framework within which the railway operates safely. It sets out the requirement to hold a safety authorisation and/or safety certificate and the process and requirements for the ORR to issue such documentation. A thorough review is needed to ensure all of the essential components of ensuring our railway can be safely operated remain. We are confident that this will be the intention.
All of the above goes to show that there is plenty of thinking that needs to be done when it comes to retained EU law. Whilst we hope that it is the intention, a close review of existing retained EU law is needed to make sure there are no gaps in the industry framework which could create difficulties for railway businesses. Whilst we might enjoy a Waterloo sunset, it's unlikely we would enjoy a sunsetting of retained EU law without clarity on what fills the gap left behind.
© Stephenson Harwood LLP 2023. Information contained on this page is current as at the date of first publication and is for general information only. It is not intended to provide legal advice.